The celebration was organized to foster the spirit of gender equality in the workplace
Super Cargo Service Co Ltd, Globalia member in Ho Chi Minh, Vietnam, celebrated The International Women's Day on the 8th of March by organizing a small party in their office. On this day all the male members of their team prepared a sumptuous lunch, decorated the office with flowers and bought gifts for all the female colleagues. Once the celebrations were over, the men took care of cleaning the office as well.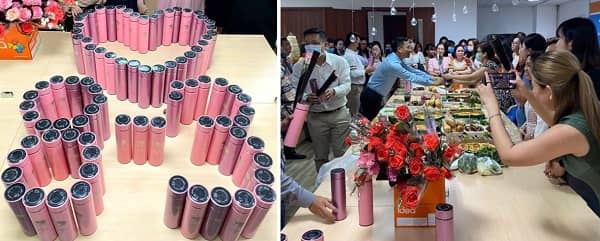 Globalia Ho Chi Minh believes in creating a work ambience based on gender equality, respect, friendliness, wholeheartedness and excellence. "Everybody is loved and respected in our team which is more like a family. Not only on this day but also on the rest of the year, our female colleagues are treated with the same warmth and respect. On the International Women's Day, we took the opportunity to have a little merrymaking when the male members took the lead and the female colleagues just sat back and enjoyed," says Ms. Lily, the Agency Coordinator of Super Cargo.
Globalia wishes all the best to Super Cargo Service for all their upcoming projects!