More than 100 international freight forwarders traveled to Phuket, Thailand, to attend Globalia's 4th Annual Meeting that took place from 15th to 17th March
Globalia Logistics Network's 4th Annual Meeting which took place at Le Meridien Phuket Beach Resort in Phuket, Thailand, was an out-and-out success. More than 100 network members from over 50 countries came to Phuket to participate in three days of business discussions and networking with their logistics partners. Eight websites from the freight and logistics sector have covered the news about the successful conclusion of Globalia Logistics Network's Annual Conference at Phuket.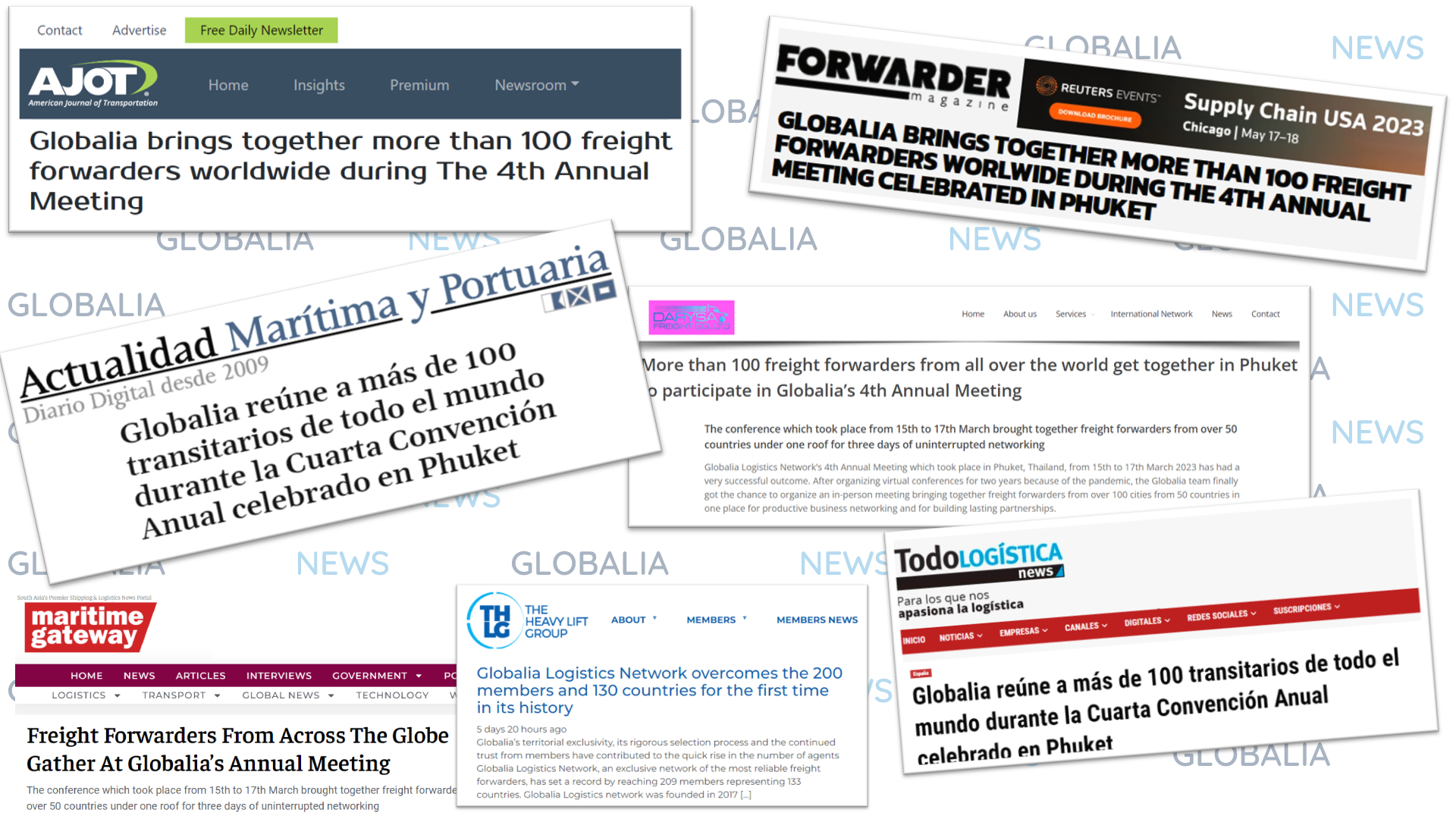 The news published on these websites mainly talks about the success of the in-person meetings, and how they fostered networking and helped to further the interests of the members' companies.
Listed below are the websites that have published the news about Globalia's 4th Annual Meeting.
Actualidad Marítima y Portuaria is an initiative of the students and professors of the International Master in Maritime and Port Administration (MIAMP) at International Maritime Business School. Moreover, their online magazine has been publishing news and resources from the logistics industry since 2009.
AJOT or the American Journal of Transportation is a web portal publishing relevant news from the transportation and logistics industry. This website features the latest and most relevant news and reports from the international freight forwarding industry.
Forwarder Magazine is an all-inclusive resource for logistics, shipping and forwarding news, information and insight. From expert opinions to trade-specific knowledge in the air/sea/road freight sector, this website covers everything of relevance in the transportation and logistics market.
Grupo Todologistica is a company that has been helping entrepreneurs in the logistics industry to generate new business opportunities by helping them to enhance their marketing and promotion strategies.
Maritime Gateway has emerged as South Asia's premier publication focused on the shipping and logistics industry during the past decade. They are committed to create a meaningful space that presents useful information on the latest happenings, topical issues and current trends in the industry.
Darysa Freight is a Cambodia-based company that has established itself as one of the foremost players in the freight and logistics markets of Phnom Penh.
The Heavy Lift Group is an international group of specialized heavy transport companies which combine their forces to offer the best expertise and service according to customer needs.
Freight Mergers are specialists in the sales, mergers and acquisitions of companies within the global freight and logistics market. They work with some of the most renowned names in the industry, from SMEs to publicly listed companies and everything in between.