Globalia agents are getting ready to fly to Kuala Lumpur to attend the 2'nd Globalia Logistics Annual Meeting at the Intercontinental Hotel from the 9th to the 11th May
After the success of Globalia's 1
st Annual Meeting, this year Globalia agents from more than 60 countries who would arrive at the Intercontinental Hotel to meet face to face with their fellow agents and potential partners. After completing the formality of onsite registration, the agents along with their spouses will be attending the welcome cocktail reception. On the 10th of May, the participants will be attending the official opening and presentation ceremony which would be presided over by Globalia President and Founder Antonio Torres.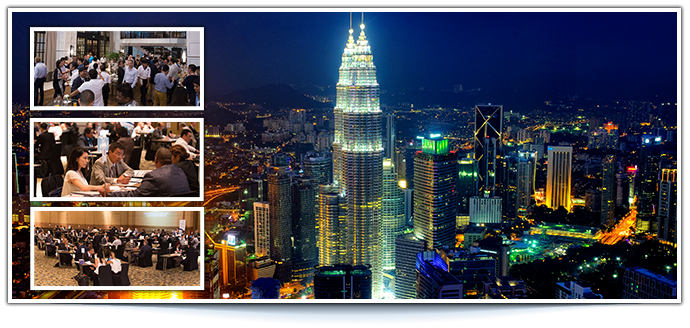 Fostering the development 
of a spirit of mutual cooperation
 between members is the core agenda of the meeting which is why Globalia allows each agent to book up to 22 one-to-one meetings with their current and potential partners in course of the 2 days of the 
meeting
. Over 2000 meetings have been already scheduled by agents with other members within the network. The 3 days of the conference would give the members a platform to effectively promote their individual businesses, appreciate the quality of other Globalia agents and create lasting ties with fellow members which would eventually lead to a greater business volume.
The Gala Dinner on the 2nd evening of the conference would give the attendees a chance to indulge in merrymaking and allow them to foster the networking ties in a more informal setting. All the agents and their spouses will be treated at one of the finest restaurants in the city where they will experience a scrumptious dining experience followed by a little fun time with other members. On the 3rd day, there will be another tight session of one-to-one meetings after which the conference will be officially closed.
After attending Globalia's 1st
 Annual Meeting, the representative of Columbia Transport SRL, Globalia Milan commented that: "We highly appreciate the professionalism shown by the Globalia team in the organization of the Annual Meeting. We are delighted with the coverage that the network has reached within a year, the quality of its members, the payment protection plan and of course the port exclusivity of the members. We hope to know our partners better at the next Annual Globalia Meeting." It goes without saying that Globalia's 2
nd
 Annual Meeting is going to be even more successful than last year and we sincerely hope that the networking opportunities turn out to be highly productive for all our agents.