PTN Events hosted this virtual conference where digital innovators in next-generation technologies assembled to discuss on insightful topics

Andrea Martin, Globalia Logistics Network's FreightViewer Coordinator participated as a speaker in the Container Shipping Conference 2023 that took place from 30th– 31st May, where she presented the topic "The importance of a digital strategy for freight forwarders." Organized by PTN Events, the seminar provided a platform for trailblazers in next-generation technologies to convene and engage in discussions centered around digital innovation.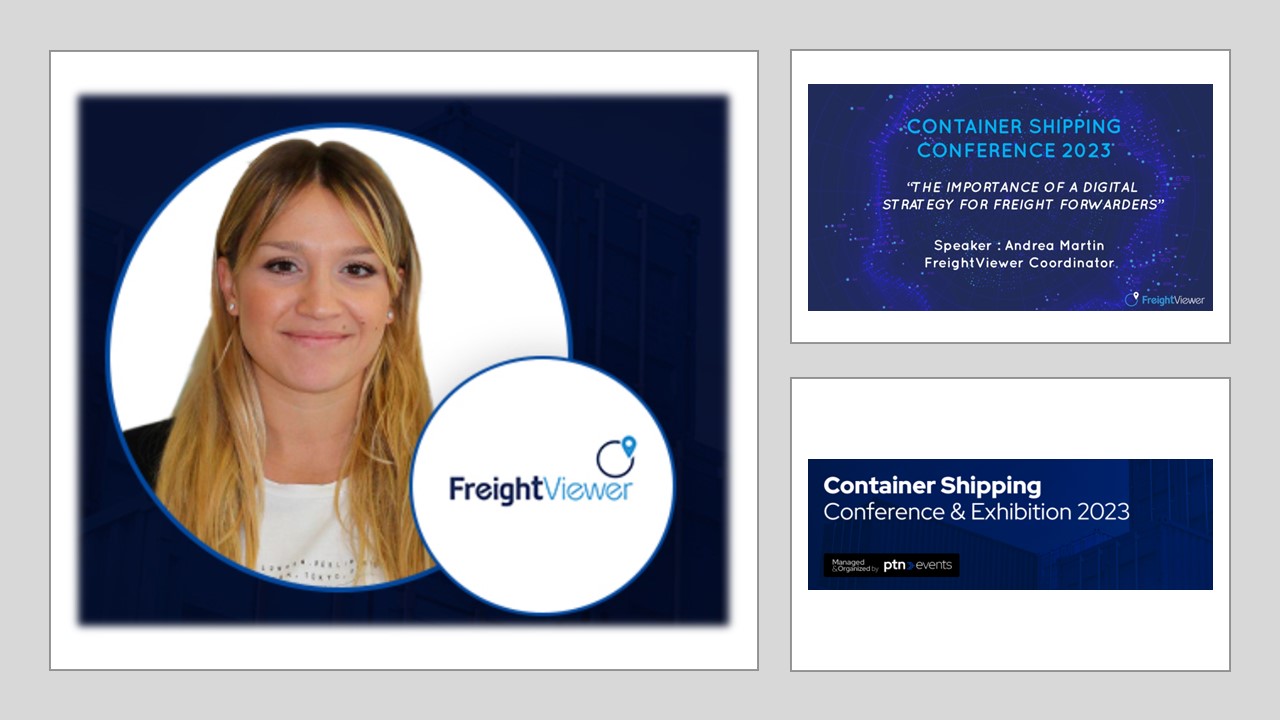 FreightViewer team chose this topic with the aim of emphasizing the importance of adopting unique strategies to navigate the changes brought about by Industry 4.0. In the course of her speech, Andrea Martin comprehensively covered three crucial aspects: the profound impact of Industry 4.0 on the logistics sector, the importance of adopting a digital strategy to secure a position in this evolving industry, and the diverse challenges that may arise during the process of digitization.
In her presentation, Andrea Martin underscored the critical importance of formulating a digital strategy within the freight forwarding sector to successfully navigate the industry's technological transformations. She also brought attention to the valuable role played by FreightViewer in supporting members' digitalization efforts. Additionally, she emphasized two key advantages of the platform: the seamless connectivity it provides between members and the ability to conduct operations online. Wrapping up her participation, Martin addressed the several obstacles that arise during the implementation of digital strategies in the logistics business.
A panel of experts participated in the Container Shipping Conference who spoke on a range of topics such as container optimization, platform collaboration, port congestion and its consequences, the acceleration of digitization, investment scenarios, and solutions aimed at enhancing efficiency. This conference served as a platform for global professionals in the container shipping industry to comprehend and discuss international market issues as well as technical challenges.
To quote Antonio Torres, CEO and Founder of Globalia Logistics Network, "We are always keen on participating in conferences that showcase digital innovations within the industry. Such events not only keep our members and us well-informed about the latest developments in the logistics sector but also provide an opportunity to position our member-exclusive transport management software, FreightViewer, in the context of the new era where establishing a digital strategy has shifted from being optional to becoming a mandatory requirement for freight forwarders. We extend our thanks to PTN Events for extending the invitation to us, and it has been a pleasure to be a part of this event."