The 2019 edition of the event will be held from 12th to 14th November at the Dubai World Trade Centre
WOP DUBAI an event exclusively dedicated to the region's fresh produce industry is expected to attract participants from 35 countries around the world, in addition to experts and specialists in the field of fresh produce. A clearly structured exhibition profile covers the entire products chain on the trade of fresh produce. The event features a large display of products related to the service of fresh produce including fresh products, technical equipment, fresh product trading, fresh produce safety, transport and logistics, and fresh produce services.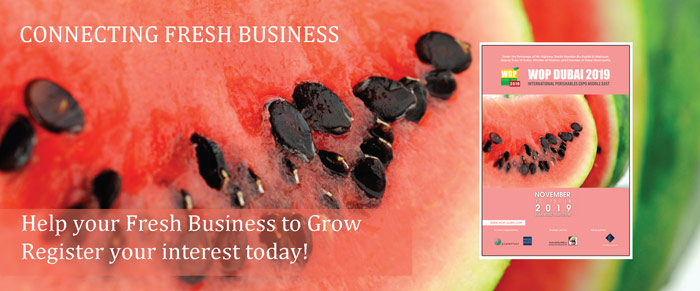 Over the past ten years this exhibition has been extremely successful in helping businesses explore new opportunities by connecting investors, decision-makers and other stakeholders. The event is all the more significant since the UAE is a regional hub for re-export of fresh produce, with the quantity of such goods increasing about 710,000 tons in 2017 worth about $ 1.6 billion.
The WOP Dubai – Logistics & Cold Chain segment would give the opportunity to the logistics and cold chain industry professionals to meet the professionals from the fresh produce industry and create the chance to establish new business opportunities within the Middle East region.
Globalia encourages its members to participate in the event. Interested members can download the registration form from their website: https://www.wop-dubai.com/