Globalia's first freight forwarding course on International Transportation and Trade in cooperation with CIFFA has been a great success
Globalia's Logistics Network's recently launched online course on International Transportation and Trade provided by CIFFA has been successfully completed. The news about the success of this newly launched course has been covered by several online news portals. The courses are aimed at agents who want to get a practical training in the fundamentals of transportation and logistics and stay up-to-date with the industry trends.
The International Transportation and Trade course is provided by CIFFA- one of the best names in logistics education with 60 years of experience. The course focuses on the foundations of freight forwarding, risk management, and freight charges calculation. Additionally, it also covers topics like the types of equipment and documentation used to move goods by land, air and ocean modes of transport. Over 20 Globalia agents have completed the course and many are presently awaiting the certification.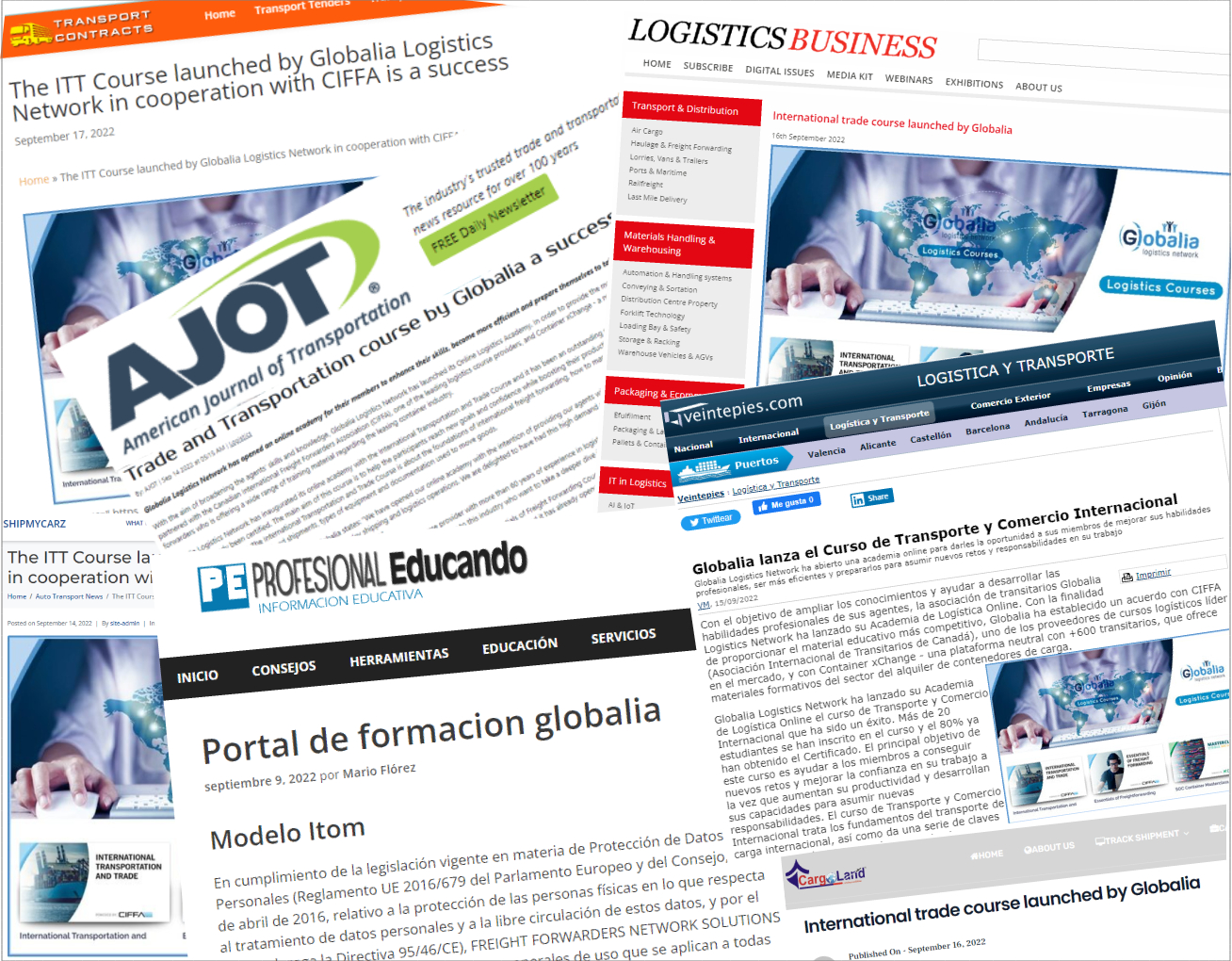 The news has been covered by the following websites:
They are a leading online journal in the transportation and logistics sector covering the latest news and insights from the freight forwarding industry.
DC Velocity is a leading multi-media magazine serving the informational needs of the freight forwarding industry. They provide comprehensive coverage of all every aspect of the transportation and logistics sector.
They are an UK based website dedicated to the transportation and logistics industry. Their website updates the the readers with important news, opinions, and reports from the global supply chain sector.
Veintepies is a news portal offering valuable information to anyone who has to make business decisions related to transportation and logistics. With a large reader base in Spain and Latin America, it publishes news, opinions, and articles related to this industry.
They are a Spanish language website where they regularly publish news and blog related to the education sector.
Transport Contracts is a road transportation magazine focusing on the trucking industry in South Africa. Their website connects vehicle owners with businesses trying to find reliable trucking service providers.
Shipmycarz is a car transportation company based in the USA that ships vehicles across North America, Hawaii, Guam, Puerto Rico and Alaska.
Ship2Door is a transportation and e-commerce company that export and import goods from Nigeria to USA and Canada.
The Press Release published in all the above websites talk about the course details, and its outcome. It also touches on how Globalia Logistics Network's online academy is providing the agents with a platform for educational courses that is enabling them to set the international standard in their everyday shipping and logistics operations.