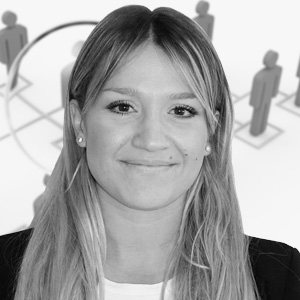 Andrea Martin is the main point of contact for FreightViewer, she coordinates the Department and is in charge of training Globalia members on the use of this exclusive TMS, assisting them with any doubts plus improving the software based on their feedback and needs. Before joining Globalia, Andrea worked in customer service, acquiring the necessary skills to solve client issues, providing technical support, and gaining a wide range of knowledge in communication. In this interview, Andrea talks about the advantages and new upgrades of Globalia's exclusive member TMS: FreightViewer.
Q. Could you explain to us a little bit more about FreightViewer?
FreightViewer is a exclusive-member TMS Globalia Logistics Network has developed to offer a digital infrastructure that allows the establishment of an automated data transfer of carrier rates and tariffs. It enhances the accuracy of the quotation while significantly reducing its processing time, from a number of days to less than a minute. To put it simply, it allows members to organize their rates with their local and transport charges on a single platform.
Q. Which do you think are the advantages of FreightViewer?
The main advantage for Globalia members is that FreightViewer will allow them to be at the cutting edge of technology and compete with the stalwarts in the industry by digitalizing the majority of business processes. All data needed for developing a shipment will be stored in the software thus helping the users to come up with an accurate door-to-door quotation and provide immediate service to their customers and generate documents ready to be sent immediately. Additionally, their clients can go almost through all the logistics processes by themselves through the website for customers where different quotes can be compared quickly and easily. Moreover, each customer can be classified into different Client Categories with different mark-ups (profit margin), meaning members can personalize quotes for each customer. And all of these complex services are included in their membership fee, at no additional cost.
Q. Which are the new updates of FreightViewer?
Our aim is to integrate the main co-loader's buying tariffs on a global scale into FreightViewer. That is why we have signed an agreement with SHIPCO to offer their LCL buying rates online through FreightViewer and we are in the process of negotiating the same with WEBCARGONET which will enable us to upload and update more than 14 million buying airfreight rates to FreightViewer.
We have a partnership with Onus Cargo Services, an insurance broker that offers rates from different insurance companies. This means you can ensure your cargo directly through FreightViewer, saving a lot of time in double typing information. Plus, the idea we have is to reach competitive insurance rates for Globalia members.
Q. How do you think FreightViewer contributes to Globalia members?
Globalia is the first international freight forwarding network with global coverage to launch instant quoting ability for its members.
The technological impact on the logistics sector in the last few years has been considerable, most of the top players in this industry are investing in enhancing their services by implementing a well-rounded digital strategy. That is why Globalia's management has decided to design a customized software that allows members to interchange business within the network in the easiest and quickest possible way. The main difference with our competitors is the global coverage we offer. Members from more than 120 countries can use our TMS.
Q. What can members do with FreightViewer?
A. They can manage rates, put together personalized quotations, and send them quickly or save them in pdf. They can also follow up with their customers and customize their website. And everything by using a very intuitive platform.
Q. Why do you think technology is so important in the freight forwarders industry
A. The pandemic has brought a very important fact to our attention- Freight Forwarders need to digitalize.  Otherwise, they will fall behind the competition. Over the last year, many new digital freight forwarders like FLEXPORT, FREIGHTOS, FREIGHTHUB, etc. have invested millions in digitization, so now there is no turning back, it's not the future anymore, it's the present.
We are one of the very few international freight forwarding networks to successfully cope with the technological changes while providing our members with the opportunity to compete with the largest multinationals and everything is being done through FreightViewer.
 Q. Which do you think that are the main challenges for freight forwarders to digitalize their platforms?
A. The main problem is the huge amount of information managed in one single shipment, also, the volatility of the market is an important problem. But I think there is a new market emerging with a new customer type that is much more impatient and demanding than before. So, there is no other option, freight forwarders need to go a step further in this business and try new features such as FreightViewer. With the help of technology, some of the main issues faced day by day by a freight forwarder can be minimized, and their services can be optimized. Nonetheless, we should never forget that personal contact is extremely important in this industry-  technology will never replace this contact but it will help to improve customer service.