They received the award from the China Crop Protection Industry Association last 28th of June
AMA Freight Co Ltd, Globalia member in Tianjin, China, and Hamburg, Germany, gets the Forwarder of the Year Award for the pesticide industry from the China Crop Protection Industry Association which is the country's biggest network of the agriculture industry. "We have demonstrated our capacity as one of the foremost logistics company specialising in dangerous goods and hazardous cargo which involves strict regulations and requires special handling in China. Over 80% of the goods we are moving from China are hazardous chemicals related to agriculture." says Leonard Slezak from AMA Freight.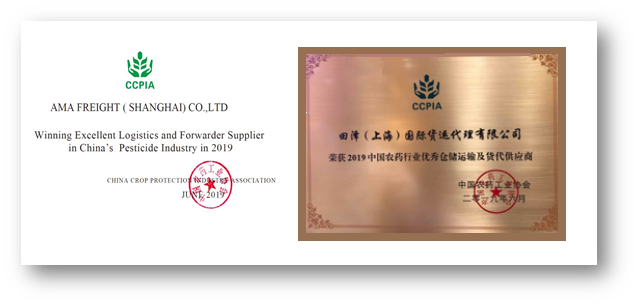 AMA Freight comes with well trained members to guarantee a smooth and professional service as per IMO-Regulations. This also includes value added services such as their own stuffing supervisors who are controlling warehouses and the new suppliers of their customers. Mr. Slezak further adds, "We make sure to maintain good relations with all parties involved in the DG supply chain which is an absolute must to survive in this challenging sector."

Congratulations to AMA Freight and wishing them the best for their future endeavours!