This certification implies that the freight forwarder has a sound financial status, sufficient air cargo potential, and the right facilities for moving air cargo and dangerous goods
Shenzhen United Atlanta International Transportation Co Ltd, the Globalia member in Shenzhen, China, has recently garnered the IATA license. After achieving the CATA license in 2018, they applied for IATA membership and in October 2019 they have finally acquired this license which will significantly upgrade their air-freight operations.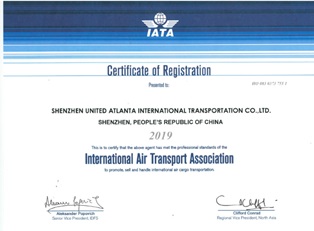 United Atlanta's quick and competitive air freight rates and customized services have made them the go-to freight forwarder in Shenzhen. "The IATA license will lend more credibility to our personalized air-cargo services. Moreover, our updated operating system facilitates better visibility of reporting and communication channels, thereby enabling us to work more efficiently by responding to the queries and requests from the clients regarding shipping schedule, space management, customs clearance, cargo tracking etc."  says Cyril Zou, the Branch Manager of Globalia Shenzhen.

Because of the time-sensitive nature of air-cargo, they always keep their customers informed by creating a 'Communication Group' for information exchange in real-time. They have also introduced a host of upgraded services such as a pre-alert for possible problems & timing with suggested solutions, a report on every key point of air freight processing, and a full set of document formats. Mr. Zou further adds, "We dedicate ourselves to providing safe, timely, cost-effective services for our clients. Meanwhile we're always renewing our platform to remain competitive and to cope with the changes in the air freight market."
Congratulations to Shenzhen United Atlanta for this commendable achievement!