Just in 2019, SDK's team grew with 6 new colleagues
Sotramar & De Keyser NV, a Globalia member in Antwerp, Belgium, is a part of De Keyser Thornton Group. With more than 160 years of experience in the sector, they believe that the key of their success is the expansion. That is why their main aim in 2020 is to continue their investment in logistics and forwarding. In the words of Mr. Gilles Verlé the Business Development Manager of SDK "Since 1853, De Keyser Thornton has been active in the maritime sector and has been a part of Antwerp's maritime history. Over the years, DKT has evolved from a shipping agency to a logistic partner, which offers completely integrated logistic services."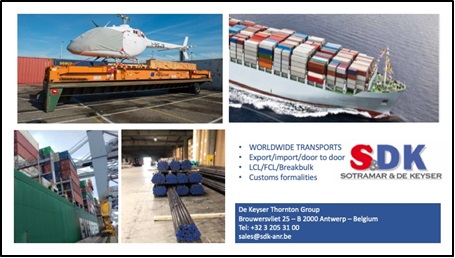 Just during last year, 6 new colleagues joined their experienced operational team. "Our team keeps growing, which is a signal that our projects are increasing too. SDK appoints professional people with long experience in the sector in order to enhance the productivity of the company. We strongly believe that the new colleagues will positively contribute towards further growth of SDK", says Mr. Verle.
Sotramar & De Keyser NV believes that the secret for this successful expansion has been the rolling out of red carpet services, based on the combination of tradition and innovation. Over the years they have been offering a host of services ranging from LCL & FCL container shipments (export & import), steel & project cargoes, procurement, to licensed custom brokers, and multimodal transport solutions.
Congratulations to SDK for these successful projects!