Gateway Logistics Inc, Globalia member in Manila, celebrated their 17th Anniversary on 2nd of July 2019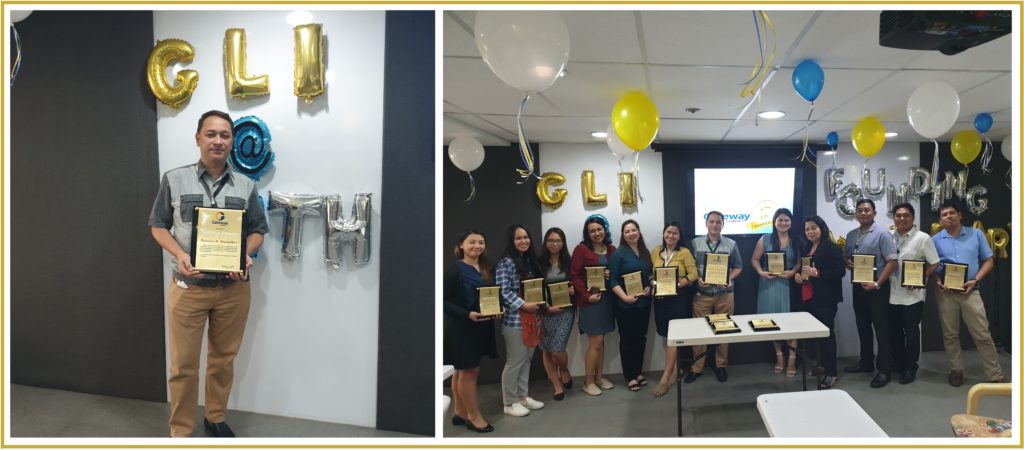 Gateway Logistics Inc, Globalia member in Manila, Philippines, recently awarded their Forwarding Manager, Mr. Francis M.Fondevilla for 15 years of services for the company. Mr. Fondevilla worked as the Sales Account Executive for a shipping company for 8 years before joining Gateway Logistics in 2004. "Initially, I was apprehensive of accepting the post of Forwarding Manager since my experience in this area was limited. However, after attending the formal seminars and the network meetings I learned all the nuances of the job and came across some real good connections which have been a perfect start for me." says Mr. Fondevilla.

Apart from a plaque of appreciation, Mr. Fondevilla also received a cash reward of $300 from the company. The timing of the award also coincided with the 17th Anniversary of Gateway Logistics. Mr. Fondevilla further adds, "We had a great time over food and drinks with our team members and friends and colleagues from the shipping lines. Now that GLI is on its 17th year in the business, we are very happy to inform everyone that our company which has a total of more than 60 employees has gone far in terms of experience and dedication and is well versed in all aspects related to logistics."
Congratulations to Gateway Logistics and wishing them all the best for the future!