Over the last 10 years, they have grown substantially, increased the scope of their operations and opened up a number of new offices
Dispatch Global Logistics, Globalia member in Cairo, Egypt, is celebrating their 10th Anniversary. Since its establishment in 2010, Globalia Cairo has been offering bespoke logistical services including air freight, ocean freight, inland freight, warehousing, cargo insurance, customs brokerage, and door to door trading solutions.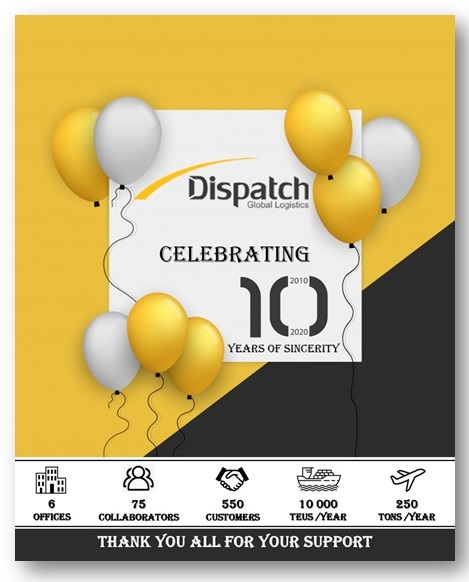 In the words of Mr. Abdelhamid El Malatawy, Chairman & CEO of Dispatch Global, "On this special event, we would like to extend our sincere thanks to our partners as their trust and support have always been the biggest drivers for our continued growth. None of our achievements would have been possible without you and your valuable support!"
The three important factors leading to their success are a proper understanding of the partner's time plan, taking care of every small detail, and providing honest, transparent, and professional services till the safe delivery of the cargo. "Ever since we established our Overseas Department in 2017, our team is even more attentive towards the requirements of our international partners. Presently we are working on expanding our trade in China which has come up as one of the most important commercial hubs of the world," adds Mr. Abdelhamid El Malatawy.
Happy 10th Anniversary to Dispatch Global Logistics and all the best for their future projects!