Breakbulk Europe will take place at Messe Bremen, Germany from 18th to 20th May, 2021
Breakbulk Europe has grown significantly since the move to Bremen in 2018, and with over 120 countries represented, its reach embraces the world. Breakbulk Europe has become the global hub for the industrial project supply chain, including the world's foremost manufacturers, oil & gas companies, EPCs, carriers, ports, logistics firms, specialized transporters and related service providers. This year's event is expected to bring together around 10,000 professionals from more than 120 countries.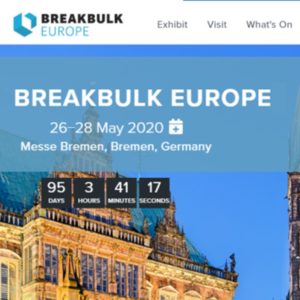 In the words of Nick Davidson, the Portfolio Director for Breakbulk Europe, "It's a great pleasure to be returning to Bremen in 2021, a city that has gone above and beyond to welcome breakbulk and project cargo professionals from more than 3800 companies… The city of Bremen has proved to be a good fit for the Breakbulk attendees with its unique blend of historical charm, modern amenities, maritime environment and visitor affordability."
The 2021 announcement comes three months before the opening of Breakbulk Europe 2020, and already the indicators point to another success. Online registration is tracking 13 percent ahead compared to this time last year. Added to the 2020 experience will be a pair of professional workshops focused on risk management and chartering essentials, Education Day for local students and those new or looking to enter the industry, and the first Europe-based Women in Breakbulk breakfast, part of Breakbulk's global networking platform for female professionals.

To request exhibiting and sponsorship information and to register for the event, visit their website.