They provided end-to-end solutions, multimodal transportation, air freight and special protocols for handling and transporting these high-end vehicles
Schaefer Trans Inc, Globalia member in Atlanta, USA, handles the movement of several high-end vehicles for the Pebble Beach Concours d'Elegance, – an automotive charitable event in which is regarded as the most prestigious event of its kind. They handled all aspects of door-to-door transportation such as documentation, ATA Carnets while their custom vehicle containers provided the much-needed security and confidentiality required for the grand entrance at the Concept Lawn in Pebble Beach.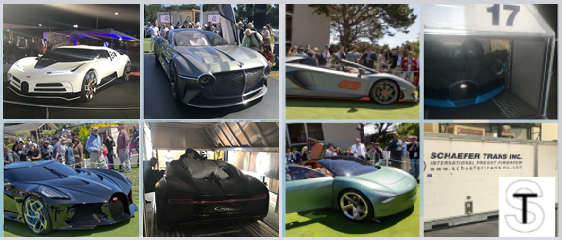 After a week of extensive preparations, Schaefer Trans delivered the Bugatti "La Voiture Noire" which holds the record for the world's most expensive production car ever sold, the Bugatti Centadieci, Bugatti Chiron Sport, scissor door and spiky headlights for a Bentley EXP 100GT concept car, the BMW I-NEXT, the Genesis Mint and Lamborghini Aventador 63, to name a few. "High-end vehicle transportation is a complex, fascinating, and highly tailored business and we have designed special services and products ensuring complete satisfaction for our clients", states Mr. Felix Flaig, the Chief Operating Officer of Schaefer Trans Inc.
"The 4 decades of transportation mastery earned us a sound reputation among car manufacturers. Our clients' hard-earned trust lets us be a part of the mind-bending car design unveiling at events such as Pebble Beach Concours d'Elegance. If you are ever in town during this event, please stop by and say Hi to our Schaefer team- a part of the Globalia family!" continues Mr. Felix Flaig.

Congratulations to Schaefer Trans for this achievement and wishing them the very best for their future endeavours!