Did you know that 57% of companies spend over 2 hours each day trying to acquire accurate market prices?
Container xChange has recently conducted a survey to gain insights into how independent freight forwarders keep pace with ocean freight shipping industry trends. The survey uncovered that a significant number of companies still rely on cumbersome methods such as phone calls, WhatsApp messaging, and email exchanges with their partners and suppliers. Obtaining the latest container prices and SOC leasing rates, necessitates reaching out to multiple contacts, making this process arduous and extremely time-consuming.
The survey findings highlighted that 44% of companies engage in daily research on container prices and leasing rates, with 57% of respondents investing over 2 hours each day in this task. Astonishingly, companies spend an average of 40 hours per month just to stay updated on current market values.
In this blog, we will introduce Container xChange's new platform and explain how it can empower independent freight forwarders to make better decisions when engaging in ocean freight shipping activities. With the help of this platform, you can make more informed choices in the fluctuating container market, enhancing your success and profitability.
Understanding Container Prices in Ocean Freight Shipping

Container prices are a crucial aspect of the ocean freight shipping industry. They are influenced by various factors, including global demand for goods, fluctuations in fuel prices, trade policies, and geopolitical events.
With the ease of Covid restrictions in many countries, we've seen a gradual drop in container prices towards the middle of 2022 and even more so at the end. However, there has been a slight increase in container prices in 2023. The market value of this sector has expanded from $10.24 billion in 2022, to $11.18 billion in 2023.This shows that container prices are steadily reverting to their pre-Covid level. Nevertheless, despite this growth, independent freight forwarders faced significant financial setbacks due to the complexities of container trading and leasing, along with the challenges of timing and location optimization.
To navigate this ever-changing landscape, freight forwarders need real-time insights into container prices to make informed decisions.
xChange Insights: A Game-Changer for Freight Forwarders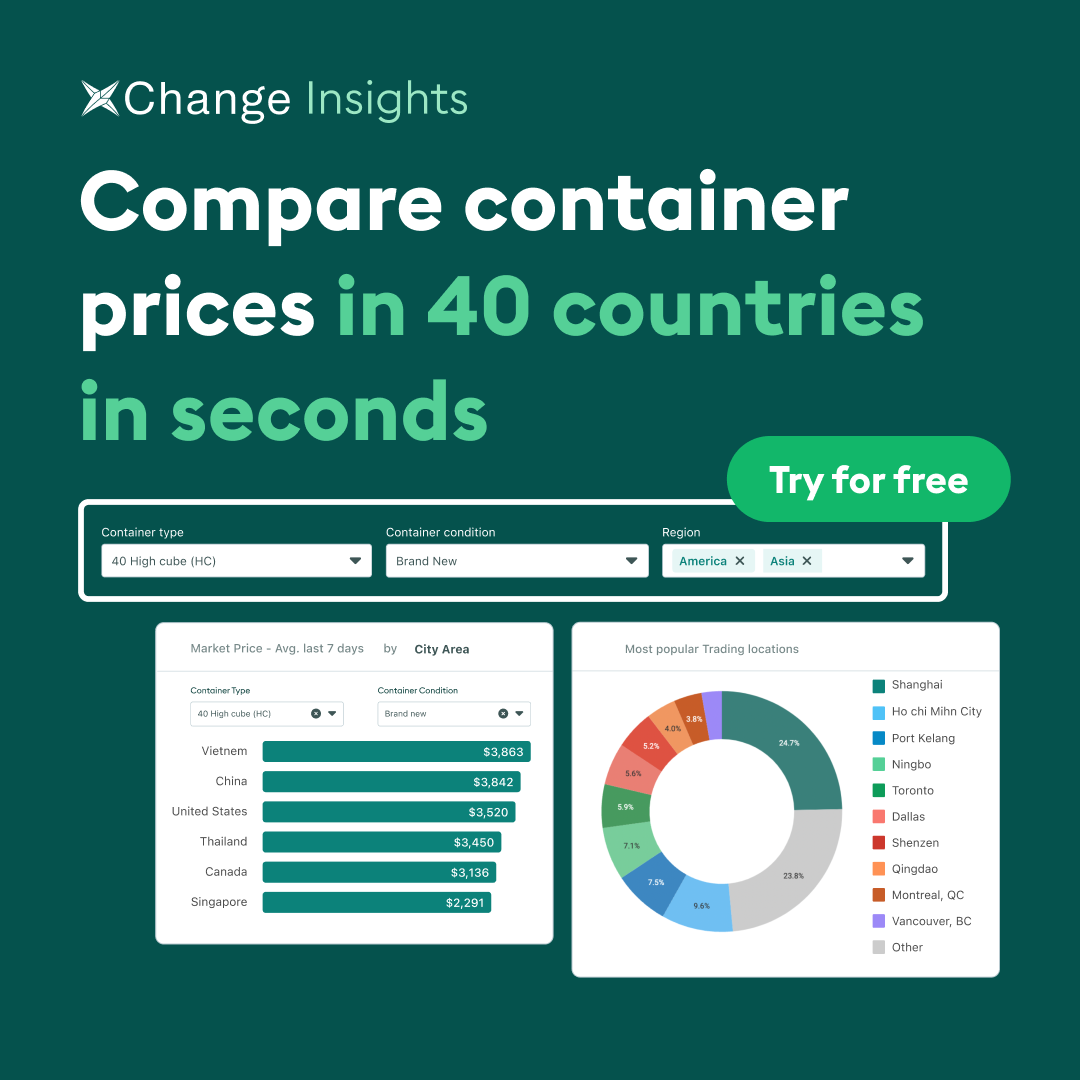 Container xChange's innovative platform addresses the challenges faced by independent freight forwarders, streamlining container trading and leasing processes. By leveraging advanced data analytics and cutting-edge technology, xChange Insights provides users with up-to-date information on container prices, availability, and locations. Here's how the platform can empower forwarders like you to make better decisions.
It allows logistics companies to stay ahead of the market with access to real-time data on container prices. xChange Insights tracks price fluctuations, enabling forwarders like you to identify favorable opportunities for buying or leasing containers. Additionally, it helps freight forwarders make informed choices by accessing a comprehensive database of available containers across various locations. This feature ensures that you can secure containers when and where you need them, minimizing delays and optimizing your operations.
It analyzes supply and demand dynamics in different regions, helping freight forwarders make the most cost-effective decisions.For instance, to avoid unnecessary costs when transporting containers from one country to another, companies can lease out their containers for one-way moves. Doing so, they will save money on hefty empty repositioning costs and earn money while still having their containers moved to where they need them. Logistics companies can leverage Insights to learn about the current container market prices and their potential earnings from one-way leasing movements.
Exclusive opportunity for Globalia members to access xChange Insights for free
As the international ocean freight shipping market continues to evolve, leveraging technology and data-driven platforms becomes vital for staying competitive and successful.
A significant 57% of freight forwarding companies dedicate more than 2 hours each day to acquire accurate market prices? Globalia Logistics Network's partnership with Container xChange is now offering our agents an exciting new benefit. Members can now have the chance to access the xChange Insights platform absolutely FREE.
With xChange Insights, you can:
Stay informed about current market prices for containers in 40 countries.

Identify the most suitable cities for container allocation.

Maximize your profits in the container industry.
To avail yourself of this exclusive offer, simply click on the provided link and sign up for free!