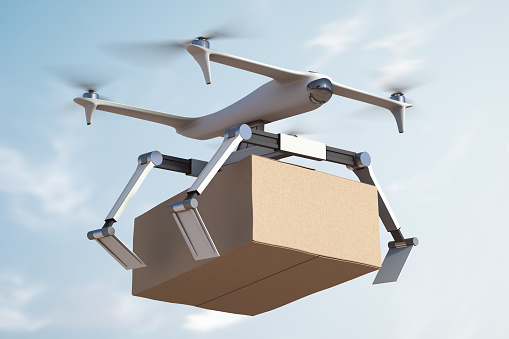 Delivery drones are all set to become an essential component of the logistics industry and the e-commerce sector. Thanks to the advent of delivery drones, instant deliveries of orders via drones will soon become a reality. In the last 3 years, we have seen over 660,000 commercial drone deliveries. In 2022, over 2,000 drone deliveries took place daily.
The international market for cargo drones in 2023 will reach 10, 580.2 million USD. Moreover, it is expected to increase at a 14.6% CAGR to reach US$ 41,337.1 million by the end of the year.
The use of cargo drones will continue to increase in the logistics industry
Last year we have seen several companies tying up with drone manufacturers to experiment with the possibility of instant delivery. Walmart partnered with DroneUp to boost its drone delivery programme and reach millions of customers. Drone delivery company Flytrex worked for several food chains for instant food deliveries across the US. In fact, even governments in countries across Europe and Asia have started experimenting with drone delivery services. Nevertheless, we still tend to think of multinationals like DHL, UPS, or Amazon whenever we think of instant cargo delivery via drones. This is one thing that could change in 2023. More and more mid-sized companies are now scaling their drone operations and this year drone delivery might stop being the monopoly of the multinationals in the logistics industry.

Online retailers are seeking to make quick, and cost-effective deliveries to their clients by making use of drones equipped with sensors, cameras, GPS and other features. Although the drone delivery sector has made significant advances, this sector is having to contend with two major challenges- the threat of an economic recession, and sustainability.
The USA will retain its position as the foremost player in the drone delivery sector
To begin with, we have the USA which is the major player in the drone delivery sector. With a large number of e-commerce giants and technology startups headquartered in several states across the country, it is not surprising that the US is the world leader when it comes to the adoption of drone delivery. The drone market in North America is expected to increase by over 12% in the next 5 years. Moreover, several grants by the Federal Aviation Administration (FAA) have helped to augment the demand for drones. It has also encouraged companies to invest in cargo drones.
The pandemic played an important role in fueling the demand for delivery drones. The nationwide lockdowns and the social distancing measures created a major opportunity for the delivery drone sector. The fact that drones allow for contactless deliveries within the shortest span of time surely proved its worth in a time when goods were in high demand but there were not many people to deliver them. During the pandemic, the Federal Aviation Administration in the USA sped up the approval of drone delivery services for quick delivery of essential items like medicines and food. Zipline, for example, collaborated with Novant Health to deliver PPE from a medical facility to a storage location via drones.
Moreover, Canada is also increasingly adopting drone delivery technologies to ramp up the delivery process. In Asia, China and Japan are the two countries that are leading this sector. In Europe, Switzerland, Iceland, and Finland are increasingly using drones to deliver pharmaceuticals and other retail items in hard-to-reach areas. African countries like Ghana and Rwanda are making use of drones to move test samples and medical supplies. In India the drone delivery sector has received support from the authorities and the government has launched a mission to turn the country into a drone hub by 2030.
Drone delivery trends in the logistics industry for 2023
Cargo drone manufacturers are seeking to enhance the drones in 2023 to withstand harsher weather conditions, accommodate heavier loads and yield a longer delivery range. Moreover, authorities across the world are continuing to support drone companies allowing them to safely integrate into the airspace of the respective countries.
Dronamics- the world's first cargo drone company has received a 2.5 million Euro grant from the European Innovation Council (EIC) to support their research and development programme that will help them accelerate the roll-out of their cargo drone mobility solution. The objective of Dronamics is to create sustainable and affordable same-day delivery solutions for businesses across Europe, especially in isolated and under-served areas.
As the world's first cargo drone company, they are developing long-range drones meant specifically for cargo. Their flagship drone Black Swan can carry up to 350 Kg of cargo for a distance of 2.500 Km at a cost that is 50% cheaper than conventional air freight. Moreover, their drone technology also results in 60% less carbon emission than air cargo. Dronamics is also IATA's strategic partner for drones worldwide.
Walmart's drone operation unit called DroneUp is expanding its delivery network across 34 sites to have the potential to reach four million households across six states in the USA. They presently have the ability to deliver one million parcels by drone annually. Some of the other key players in the drone delivery market include Drone Delivery Canada, Airbus, Matternet, DHL, SF Express, and Rakuten Group INC.
Wrapping up
The use of cargo drones for delivery will soon become widespread in the transportation and logistics industry. Within a few years, industries across all sectors will leverage this technology to allow for innovation in several aspects of their business such as delivery, research, and surveillance. It goes without saying that e-commerce companies will continue to be at the forefront of drone deliveries in 2023 and logistics companies will accordingly come up with drone delivery solutions for seamless last-mile deliveries and enhanced user experience.