In the last 10 years, the e-commerce industry has grown exponentially and giants like Amazon, Walmart, Alibaba, etc have ensured that customers get their required commodities with just a few taps on their phones. The growth of the e-commerce sector has allowed the logistics industry to branch out and diversify its operations. The e-commerce sector has become stronger like never before ever since the pandemic. During the lockdown, a vast portion of the global population started shopping online to get their required commodities delivered. Read on to find out more about the impact of e-commerce on the transportation and logistics industry.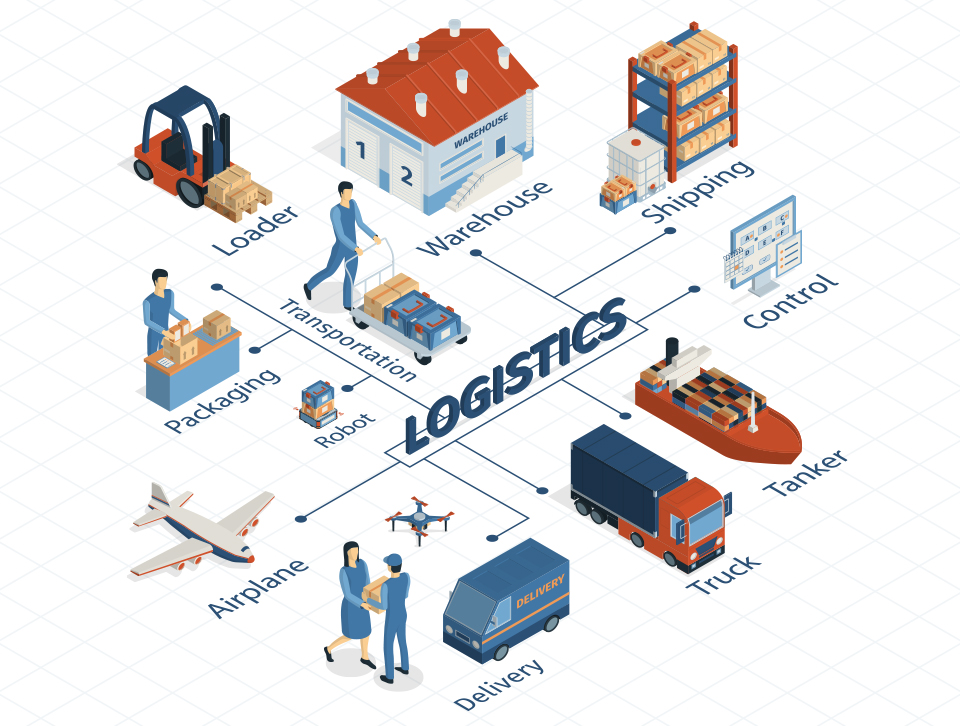 Impact of e-commerce on the logistics industry
Changing customer expectations
These days consumers expect deliveries within one or two days if not the same day. Precisely for this reason, the logistics companies are adapting to the increasing delivery pressures to keep up with the customer expectations. Just in time delivery has replaced the traditional long haul deliveries. This has led to an increasing preference for single warehouse locations rather than multiple storage facilities. Freight forwarders are also altering their fleet composition to cope with the demands of e-commerce. For example, they are now investing in small trucks and trailers that are more suitable for short and more frequent last-mile deliveries.
Increased focus on last-mile delivery
The online shopping trends have affected another important service area of the logistics industry namely last-mile delivery. Independent freight forwarders are ramping up their last-mile delivery to compete with the services of giants like Amazon. A large number of freight forwarders are changing their fleet composition to better cope with last-mile logistics.
The increased use of air freight
Air freight is playing a massive role in the rapid growth of e-commerce operations. Moreover, air cargo is also the most reliable way of moving freight. No matter which part of the world you want to send your cargo to, delivering it via air freight will not be an issue. Moving goods by air has become all the more imperative for faster delivery of the parcels.
As per a statement by IATA, one major problem in the air freight sector is the lack of cargo capacity. The changes in shopping trends are surely an important factor that has driven the rising demand for air freight. A vast number of people are now buying their daily commodities online. E-commerce boom naturally implies quickest deliveries and hence the increased demand for air freight. Amazon is tackling the problem of air capacity shortage by acquiring its own freighter planes.
Enhanced reverse logistics
Reverse logistics can refer to all post-sale activities that are done to optimize market activity. Online shoppers often return and exchange the purchased items for several reasons which is why the logistics companies are now coming up with effective reverse logistics solutions. For example, a sound processing and separation procedure for returned items are now employed to ensure minimal expenses. The e-commerce retailers expect the logistics companies to come up with cost-effective return policies as customers don't pay for the return. Better use of information and enhanced end-to-end visibility are the keys to effective reverse logistics.
Focus on visibility
End-to-end visibility of shipments is of utmost importance for seamless e-commerce operations. Most e-commerce retailers update their customers about the shipment status until it is delivered. Therefore, logistics service providers are now investing in a robust data sharing system along with effective fleet management and route optimization technologies. In other words, the logistics companies are reshaping their traditional strategies to better suit the interests of e-commerce retailers.
Adoption of digitization
The logistics industry has finally opened up to the use of new technologies to be on a par with the stalwarts in this sector. The use of Big Data solutions in logistics has become indispensable in the post-pandemic world where a vast section of consumers are buying their goods online. The use of Big Data is allowing freight forwarders to collect the required data and analyze it in real-time for better customer service.
Moreover, we are also witnessing a rise in the use of online payment methods via cards, mobiles, and net banking. Independent freight forwarders who are banking on the e-commerce sector are also using online platforms for analysis and market forecasts. These platforms also help to create a better understanding of customer expectations. Mobile integration is yet another important change brought about by the rise of e-commerce.
How logistics multinationals are venturing into the e-commerce sector
Amazon is the uncontested leader in the e-commerce sector who has now ventured into the logistics sector with their personal fleet of cargo planes and delivery trucks. To quote a report from Gartner, "Globally, there are 3 million sellers on Amazon out of 7.1 million total online retailers." Even traditional logistics companies are now venturing into the e-commerce sector. DHL for example is investing over 300 million USD in e-commerce over the next five years. "We are investing long-term because we believe consumers will continue to buy more online, and we will see additional online shops popping up, so we want to be prepared to meet this future demand," says Lee Spratt, the CEO of DHL e-commerce Solutions in the US.
Similarly, Maersk's acquisition of Visible SCM will boost its e-commerce logistics capabilities. In the words of Vincent Clerc, the Maersk CEO, "Maersk has set out to build strong E-commerce Logistics capabilities that will extend and reinforce our existing supply chain offering and create growth opportunities. The acquisitions will provide Maersk with a strong growth platform in the rapidly evolving field of E-commerce… Furthermore, they will allow us to have a more comprehensive offering towards small and medium-sized customers."
According to industry experts, e-commerce will continue to thrive even after the pandemic abates. People have got used to getting their daily items delivered without stepping out of the house. Moreover, products at e-commerce sites are usually cheaper since the online shops forego the costs of a retail outlet. Therefore, we can say without a doubt that the online shopping trends are going to continue. Therefore, the small and mid-sized logistics companies who want to venture into the e-commerce sector need to step up their operations to successfully compete with the multinationals.