Logistics companies both big and small are the cornerstone of international trading activities. However, the demand for volume and quicker service at a rock-bottom price is pushing the small and independent players in this sector to their limits. Additionally, the pandemic, the port, congestion, increased demand for commodities, equipment shortage, flight cancellation, and high price for air and ocean freight are adding to the problems of small and mid-sized logistics companies.
During these difficult times, there are a few things logistics companies can do to boost their organization and motivate their workforce. For instance, players in this sector need to focus on creating a solid company culture to reinvent their way of operations. In this article, we will briefly discuss a few tips to create a company culture of support and collaboration.
What is company culture?
The culture of the company is always determined by the values, beliefs, ethics, and goals of the owners. A few changes in your work environment, vision, leadership, and objectives can work wonders for your company. Company culture greatly determines the strength of your brand. As per a survey by Fast Company, a whopping 66% of applicants take into consideration the culture and values of the company before taking up a job. In other words, building a company culture will not only help you attract the best minds but will also help with employee retention.
Ways to improve your logistics company culture
Make your workforce connect
Your workforce needs to connect and communicate with each other not only during work hours but also outside of the office. This helps to foster a sense of friendship and trust among the employees. For this reason, the management needs to think of new ways that will allow the employees to connect and foster trust. This will go a long way towards enhancing your company culture. Additionally, it will also help you with employee retention.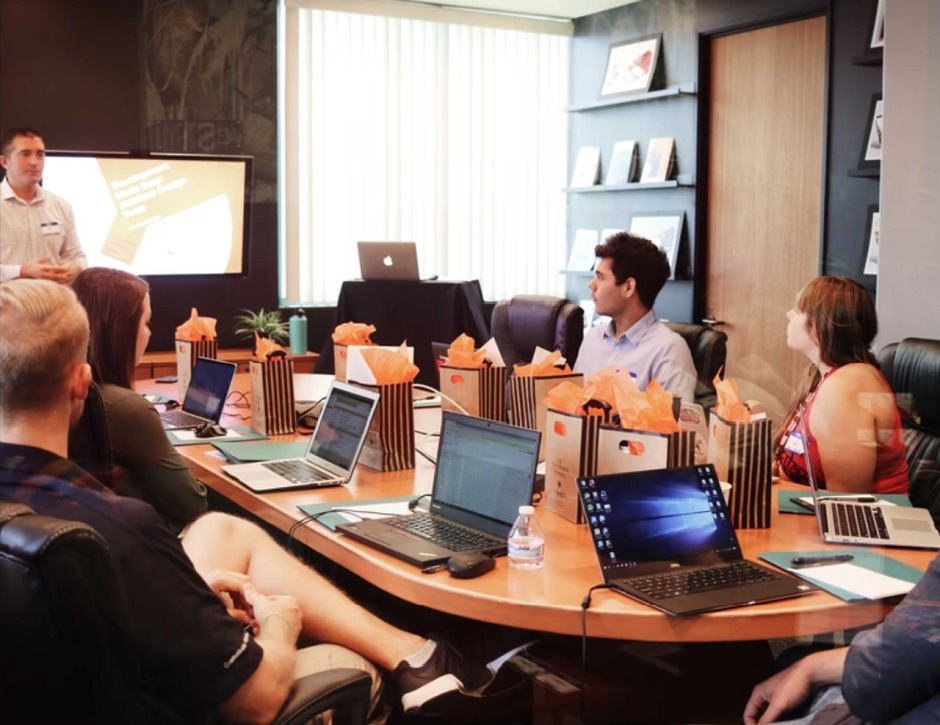 Hosting team activities, like lunches or after-work get-togethers, are some of the few ways in which corporate houses seek to connect their workforce. Moreover, the managers and team leaders need to provide encouragement by frequent conversations with all employees. This conversion shouldn't always be related to work. It is equally important to engage in informal chats with them so as to make them feel comfortable and like a part of a bigger family.
Incentive your employees' endeavors
It is important to recognize the efforts of your team whenever they do something commendable. This is an integral part of fostering your company culture and companies irrespective of sectors should work on incentivizing their employees' endeavors. Every time one of your employees brainstorms and comes up with an idea or puts forth some extra effort to get things done, they deserve encouragement. This forms the basis of supportive work culture. It is also important to demonstrate to your workforce that their involvement is crucial for the company's success. You can also consider inviting your employees to share their ideas about how the day-to-day operations can be improved.
Ensure that the employees at key positions are sticking to your stated values
The top managerial positions of your company should be occupied by competent, dependable, and agile people. It is your responsibility to make sure that the actions of the people in managerial positions are consistent with the stated values of your company. In other words, if your key workers are not competent enough, then your workforce will automatically become slack and uninspired. The CEOs, Founders, Managers, and other important position holders of a company also need to be approachable and friendly toward their subordinates. The authorities shouldn't just set the rules but also set the example of how everyone in the team should behave and interact with each other.
Foster Trust and make your workspace a friendly one
Companies need to focus on creating a result-based culture instead of focusing only on discipline. For example, if one of your workers is sick and prefers to complete a project from home then you should give that person the freedom to do so. Giving your employees the flexibility to choose their work hours and get the job done on time greatly boosts productivity. Simply put, too much emphasis on office rules and high-handed decisions demotivates your employees and hinders their output. It is equally important to create a space where the staff feels comfortable with making a mistake or two and learning from the same.
Try to create a better work-life balance
Creating a better work-life balance is especially important for logistics companies. This is because transportation and logistics is one of those few sectors that doesn't have any slack period. Transportation and logistics companies are all the more busy during the holidays and the festive seasons. Precisely, for this reason, you need to find ways to give more flexibility to your employees and reduce their stress in the office. Limiting pressure and stress should be your first step towards improving your company culture.