International logistics service provides make important decisions all day every day. One of those decisions is surely about how you want to move your shipment. Although this decision is pretty straightforward, the changes in the international shipping trends need because of the pandemic and other factors, have made this a rather challenging decision. Air and ocean freight are the two most popular modes of the international movement of goods. However, since last year, both these modes of transportation are encountering difficult challenges. This is why now more than ever, freight companies need to carefully consider the pros and cons of both air and sea freight before choosing one over the other.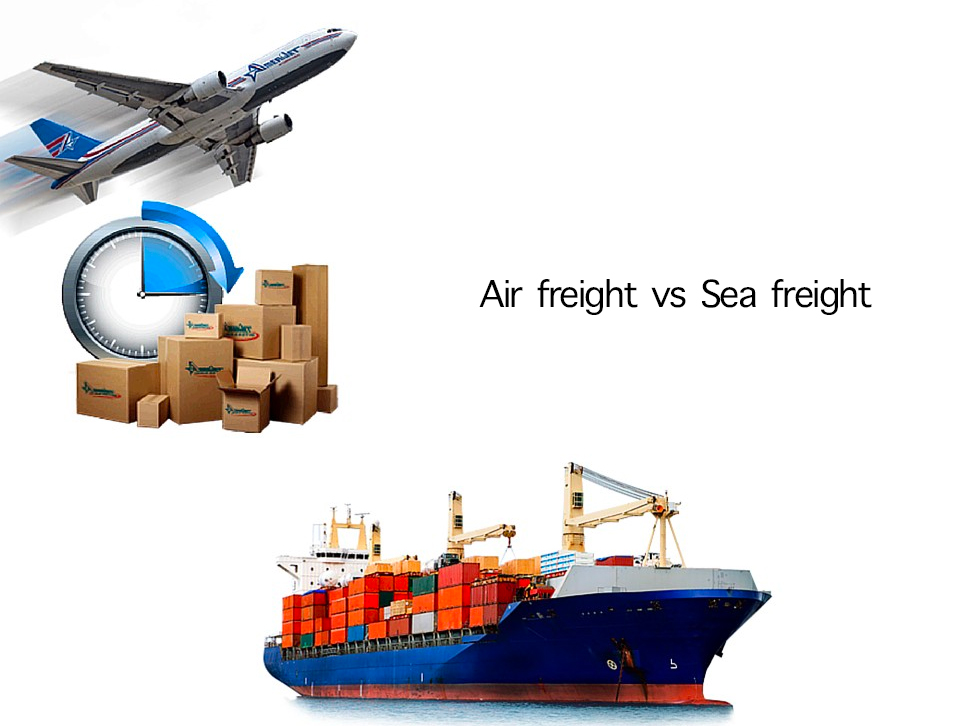 The current problems in the air and sea freight industry
Problems in the ocean freight industry
The ocean freight industry is having to contend with several problems like container shortage, port congestion, and high demand for space. As per a report by CNBC, "Shipping costs have skyrocketed as desperate companies wait weeks for containers and pay premium rates to get them, according to industry watchers."  Additionally, one of the biggest problems of the container shipping industry is the escalated shipping price. The shipping cost is now over 4 times the usual price.
The crisis in the sea freight shipping industry has taken its toll on the global schedule reliability, which is 35 points below the mark. Ships are finding it hard to keep schedules. As per a statement by Reuters, the "average container turnaround times have ballooned to 100 days from 60 days previously." The Covid-19 pandemic has plunged the international sea freight shipping industry into an unforeseen crisis. Moreover, industry experts are not seeing an end to this crisis in the near future.
Problems in the air freight industry
Like every other mode of transportation in this sector, the air cargo sector was also severely affected by the pandemic. On the one hand, it had to struggle with the restrictions on operations, while on the other hand, the demand for air freight services has peaked. Furthermore, the crisis in the sea freight sector is prompting the forwarders to opt for air shipments. Therefore, we have a severe tightness of capacity. We are not too sure about how this industry is going to cope with the rising demand for air cargo. The lack of capacity is primarily because of the limited passenger planes which used to carry considerable cargo volume in their belly hold.
Moreover, the anomalies in demand and supply also affected the price of air cargo. The air freight rates have considerably gone up since the pandemic started. Although the price somewhat stabilized in early 2021, it is still higher than normal. We are expecting a further hike in air cargo rates since the peak holiday season is just around the corner.
Which transportation mode should the selected by the international logistics service providers?
Under normal circumstances, the choice between air and ocean freight depends on the weight, content, volume of the shipments. It also depends on the speed at which they need to be moved. Therefore, small and time-sensitive shipments were traditionally moved by air freight also the option of LCL shipping was cheaper. For retail goods and electronic items where fast turnover is important, shipping via air freight is always useful. However, presently the air freight prices have soared up while the container shipping scenario is also pretty bleak. In this scenario choosing between the two can be a tricky decision that requires a bit of forethought. Let's take a look at a few factors that determine your decision.
Cost
Air freight shipments are ideal when the shipping expense is lower than 15%-20% of the cargo value. This is why light shipments should ideally be shipped by air. Moreover, it is faster, safer, and more dependable than sea freight. However, even with the increased ocean shipping prices of our times, air freight is still more expensive.
Ocean freight on the other hand gives your better value and higher capacity. Even though it's way cheaper, it's one major drawback is its speed. Additionally, the port congestion, unavailability of container and equipment, and crew shortage is causing additional delays. Therefore, only go for ocean freight when your shipment is bulk and not time-sensitive. Or else move your shipment by sea well in advance so that it reaches its destination before the deadline.
Speed
The difference in transport time between air and sea freight could be a few weeks. However, you need to consider if your customer is ready to spend a lot more for the extra speed. Most international shipments are prepared in advance. For this reason, time isn't as much pressing an issue as money.
Nevertheless, a long transport time isn't suitable for cargoes with a short shelf life. Since ocean cargoes are more prone to delays, perishable items and pharmaceuticals should ideally be moved by air. Moreover, urgent cargoes that have to be moved to a different destination within days should of course be moved via air freight. Alternatively, it is wise to look into the amount of savings you will make by going for ocean freight. Simply put, regardless of air or ocean, the ideal choice depends on several factors –shelf life, the risk profile of the cargo, storage at the port/airport, the cost of goods, etc.
Safety and reliability
Both air and sea freight are neck to neck when it comes to the crucial factor of your cargo's safety. Although in sea freight the chances of your shipment getting delayed is far more, the chances of losing your cargo are practically nil. The talk of falling off of containers shouldn't alarm you as they are a very rare occurrence. Moreover, the ship owners are now making better arrangements to prevent containers from falling off-board. Ocean freight can be as safe as air freight provided you pack your goods properly with the right protection in place.
However, the packages move around less in air freight which minimizes the chances of damage and accounts for greater stability. Also, airlines are generally better at handling schedule alternations than ocean carriers. Even though factors like rain or storm can suspend or delay a flight, airlines schedule new flights much more quickly and efficiently. Furthermore, airlines operate several flights between the major cities every day, while most ships leave once a week.
Sustainability
Sustainability in logistics is now coming up as an important factor that is impacting the decision of the buyers. Ocean freight is way more sustainable than air freight. CO2 emissions from sea freight are negligible when compared with air freight. Shipping by sea has a much smaller carbon footprint. Moreover, these days many international logistics service providers are shunning the use of crude oil in favor of LNG fuels. Maersk the biggest name in the sea freight industry is trying to decarbonize their shipping processes in a bid to achieve zero emissions. They are trying to go carbon neutral by 2030. They have also invested in a carbon-neutral ocean liner that will hit the ocean within the next 2 years.
Therefore, we can safely conclude that both modes of transportation have their pros and cons. The international logistics service providers should consider several factors such as the urgency, nature, cost, and volume of the cargo before making an informed decision.