Technology has become an essential aspect in our everyday life which is entirely dependent on digital technologies. By 'digital transformation' we refer to the process of reshaping services, operations, and the entire business structure by adopting new technologies.  Freight forwarders are already leveraging digital transformation to streamline their processes, integrate new initiatives, satisfy customer expectations and adapt to the changes in market demands and business scenarios. All the multinationals in this sector are digitizing their processes to increase operational efficiency. but, do the small and independent freight forwarders have sufficient resources to implement an effective digital strategy?
To begin with, one of the prerequisites of digitization are considerable investments in an IT team and training of your employees. For this reason, Globalia Logistics network offers their members a very important digital platform that allows them to initiate this process of digital transformation. All Globalia agents get free access to FreightViewer, a first rate freight management software that not only helps with instant quote generation but also offers a host of advantages. Moreover, every year Globalia's IT team adds significant updates to this software thereby immensely increasing its capacity as a powerful digital tool to help with your day-to-day office chores.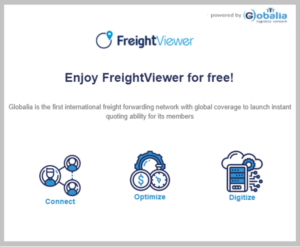 A brief introduction to FreightViewer- Globalia's member-exclusive freight management software
FreightViewer is a cutting edge freight quote generating platform that takes the members a step ahead in the path of digital transformation. This platform that is available for free for all Globalia members, not only digitizes the quotation generating process but also helps with the sales process, leads to increased visibility, reduces response time and improves customer experience. Above all it offers a standardized platform through which agents can send/request freight quotations, exchange documents, and even share the freight rates with partners outside the network.
Keep reading to find out about several new features of Gloabalia's freight management software, FreightViewer, and how it will help forwarders in the new digital era.
FreightViewer automates your quote generation process thereby allowing you to create a digital back office. In other words, you get to upload your rates on FreightViewer which generates an accurate quotation within a few seconds and compare rates with different carriers. Additionally, allows you to filter the freight rates under several attributes to get the most accurate quotation. This not only accelerates your quote generating process but also allows you to showcase your rates online for your partners and customers. All of this is done by providing an user friendly webpage that is accessible by your partners/customers anytime.
Customizable profit margins
This platform also allows you to add a profit margin that is automatically calculated by the software. The ability to customize the quotations is immensely helpful for freight forwarders. This is because all transactions do not involve the same profit margin. For this reason, FreightViewer allows you to add a customized markup to the rate. This profit margin can be changed at any time during the quote generating process. Simply put, you are able to adjust the cost according to the circumstances, the customer, and the project.
FreightViewer allows you to charge your FOB costs thus enabling you to sell them directly to your partners and clients. All your clients/partners will be able to see your rates except for those companies that are operating in your country. These rates will be also instantly available for those partners requesting FOB charges in your territory. Moreover, it allows you to manage your quotations efficiently. It also allows you to respond immediately to your customer's quote request. This significantly enhances your customer experience.
A professional and accurate quotation
Instant quotation generation is very important to succeed in the present competitive market. A slightest delay in sending a quote could lead your potential customer to avail the services of another company. Moreover, manual quote generation process is often slow and leads to inaccuracies that hampers your professional image. So it is important to make use of advanced freight and logistics tools to calculate your rate, FOB charges, profit margin, and surcharges. FreightViewer was created after years of research to provide you with ultimate accuracy in calculation along with instantly flexible services.
Access to SHIPCO LCL rates
Globalia has recently partnered with Shipco Consolidator, one of the world's leading neutral NVOCC. This allows our agents to directly access the Shipco LCL rates from FreightViewer. The immediacy offered by this platform allows users to quote within seconds. They will not only be able to share their own rates but even the rates from an external provider. This is surely a vital step that enables logistics companies to provide different options to clients very quickly.
Resilience in operations is extremely important to succeed in the transportation and logistics industry. In other words, logistics companies require a platform that enables them to amend costs, data, origin, or destination points quickly and easily. Globalia came up with this freight management software in a way that allows forwarders to introduce a change at any stage. For example, if you want to introduce a better offer, alter the profit margin, or add new charges, the platform will recalculate the final cost instantly. A PDF of your quotation will be ready to be sent to the customer within seconds.
Easy exchange of documents
Until very recently, forwarders had to depend entirely on emails to send a shipping document. However, attaching tons of documents to the mail can be a time consuming process that often leads to errors. FreightViewer allows you to attach documents with the corresponding quotations. In addition, it enables you to share those documents with partners and clients.
A personalized quoting website for your customers
Digital transformation in the logistics sector requires you to become an online freight forwarder. Having a personalized website through which your customers and partners can send you a quote request is an important step towards this direction. All quote requests sent via this website will immediately reach you so that you can promptly complete the quote. Moreover, you can share all these info with your customers through the website. To put it simply, FreightViewer leads to enhanced transparency in operations which is always appreciated by your customers and partners.
Send quotations to partners outside the network
We fully understand that forging a profitable long-term partnership requires years of effort. Even though Globalia offers the safest environment to carry on your business, there are often times when you need to collaborate with partners from outside the network. Our freight management software lets you send your quotes to external companies by sharing an interactive link. Therefore, you can now store and share all quotations in a unique platform, either from network members or external companies.
 Using a digital platform necessitates thorough training. Lack of adequate training and support, will not allow you to implement digitization in your daily operations. Globalia has an exclusive FreightViewer department whose job is to train the users on the right use of this platform. Additionally, you can also help us improve the feature of FreightViewer by sending feedback and suggestions.
One difficult issue faced by forwarders is the problem of following up with clients who don't send a reply after receiving the quotation. A followup is crucial to maximize your profits. Your client's feedback is important even if it's not a favourable response. For this reason, FreightViewer gives you the option of following up with your customers.
All quotations sent through FreightViewer include a link for the clients. Your clients can send you feedback by hitting this link.  Most importantly it allows you to find out the number of visits by clients and the time when the quotation was visited. Therefore you will be able to call those clients who checked your quote but didn't get back to you.
Globalia Logistics Network has irrevocably changed the quote generation process by launching instant quoting ability for its members. Only our members can access this free and exclusive platform. Its main objective is to digitize one of the most important office tasks viz quote generation. It not only helps you save an enormous amount of time but also helps with better customer service by instant response. It allows independent freight forwarders to keep pace with the biggest changes that are happening in the industry i.e. digitization.