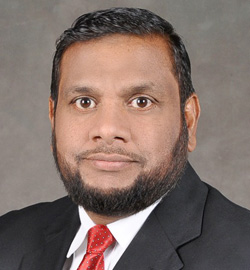 "In order to mitigate the impact of delays and cancelled shipments, we are considering reducing certain dimensions of the chain. At the same time, in order to improve volumes and revenue, we are focusing on adding more value to our services and making the chain processes more efficient"
We have recently interviewed Tuan Roshan, the Freight Forwarding Manager of SEDRES MARITIME, Globalia member in Dammam, Saudi Arabia. In this interview, he explains the origin and history of his company as well as the challenges faced by freight forwarders during these difficult times of pandemic, among several other things.
Q. Can you tell us a little about the history of Sedres Maritime?
A. Sedres Maritime was established in 1993 and it has been expanding its services to currently provide complete marine and integrated logistics solutions to major clients in the Kingdom of Saudi Arabia. Our services cover shipping agency, crew change, freight forwarding, land transportation, customs clearance, ship handling for deck, engine, technical and provision supplies, construction, as well as diving, engine repair, LSA/FFA servicing, etc. through our partners. We offer specialized services to meet our client requirements.
Q. When and how did you get into the freight forwarding industry?
A. We started with freight forwarding activities in 2006 with a focus on petrochemical products, along with transportation of machinery and spare parts to the industrial city of Jubail. Today, the Freight Forwarding Department acts as a backbone for the organization by supporting other divisions of Sedres while supplying other independent global clients.
Q. What distinguishes Sedres Marine from other freight forwarders in your city?
A. Our pool of expert staff has experience in the industry from 10 to 25 years. We handle DAP, DDP, Ex-works, Door to Door, Exhibition cargo, ATA Carnet and many other shipments. Our commitment to provide solutions to our esteemed clients is the motivation for every move that we make.
Q. What are the main challenges facing freight forwarders regarding the pandemic at the moment?
A. Currently, we are facing issues with regular and in-person visits to customers, meeting other stakeholders – like the authorities – for solving specific issues, and inspecting materials due to restricted/limited movements. Additionally, some orders are being delayed or cancelled.
Q. How is the freight forwarding industry tackling these challenges?
A. Technological tools are our main support in these challenging times. Physical visits are being reduced and the whole coordination is being managed through emails, videoconference calls or other apps. Government support and some initiatives they are offering are also helping us greatly.
Q. How is SEDRES dealing with these challenges on a daily basis?
A. COVID has been and is a global challenge. People around the world are adapting to new normalcy and we are also taking advantage of the opportunity to review our processes and to introduce positive changes and make the chain logistics more efficient to achieve better results. Our teams have a more pro-active attitude now to ensure there is no breakdown in the chain and we are able to anticipate to issues that we may see forthcoming.
Q. How do you think the technology is changing the freight forwarders industry?
A. Technology is certainly enabling businesses to run with minimal human resources, and it is making the chain logistics more efficient. However, several platforms need further integration and there are challenges like cybercrime and networking issues that remain unsolved.Q. 

What would be the most significant shipment your team has handled? What were the challenges your team had to overcome?


A. We arranged complex logistics for a few aero engines and industrial vessels. Coping with issues like route planning while COVID movement restrictions and continued quarantine requirements was a big challenge to overcome. Nevertheless, with our team's commitment and dedication, we successfully executed them.
"Our commitment to provide solutions to our esteemed clients is the motivation for every move that we make. 
                                 
Q. Where do you see SEDRES in 10 years?

A. We see ourselves working with other sectors within the maritime industry and increasing our presence globally, covering a wider geographical area of the world. Our aim is to keep expanding, and we are already working in that direction.